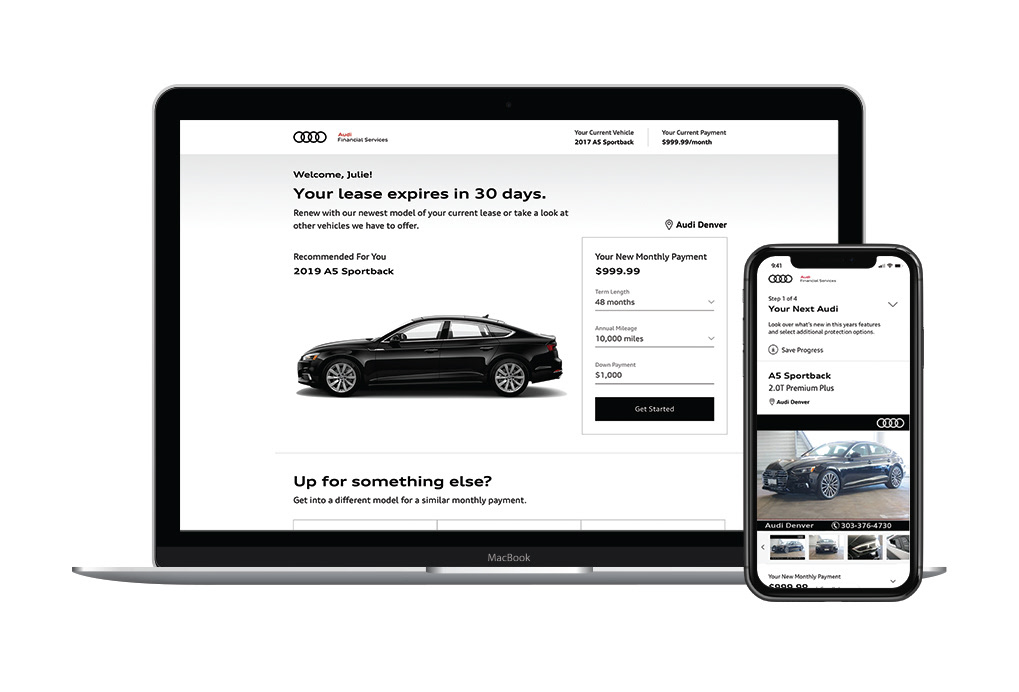 Background
When a consumer's vehicle lease is approaching its maturity date, generally a lease retention manager or a sales person at a dealership reaches out to consumers. They normally try to encourage customers to renew their lease with the same dealership. Audi envisioned this lease retention process to be a seamless and hassle free experience for their loyal Audi customers as well as their dealerships in US.
Audi Provided extensive brand guidelines as well as basic UI kit but I also added additional UI components to the UI kit to accommodate better UX.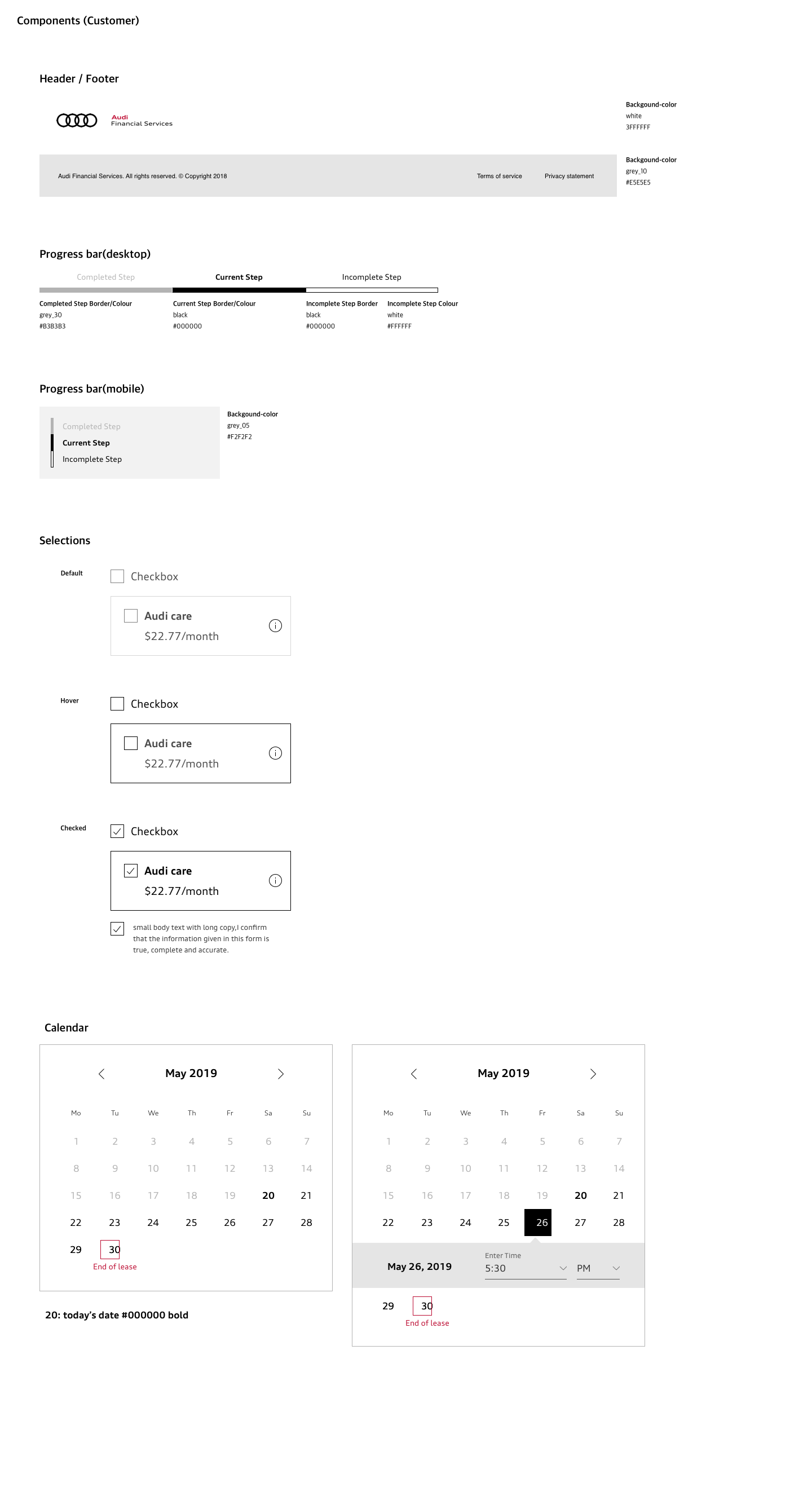 Users
Audi Customer: Someone who is currently leasing an Audi vehicle in US

Audi Dealer: Someone who is working at an Audi dealership in US as a sales person or lease manager
Challenges
For Audi customers, it is difficult to
- Research vehicles
- Understand order progress on each vehicle at a glance
- Prioritize each vehicle
- Know the details of each vehicle at a glance
- Manage the list (no ways to delete the vehicles from the list)
For Audi dealers, it is difficult to
- Understand which vehicle is currently in the process of buying or which are saved for pure research
Approach
For consumer facing side, the approach was to build a customer dashboard where they can do everything they need to do to renew their lease with a new Audi vehicle. Something similar to 
Genesis at Home dashboard
.
For dealer facing side, the approach was to build a portal where dealer can manage customers.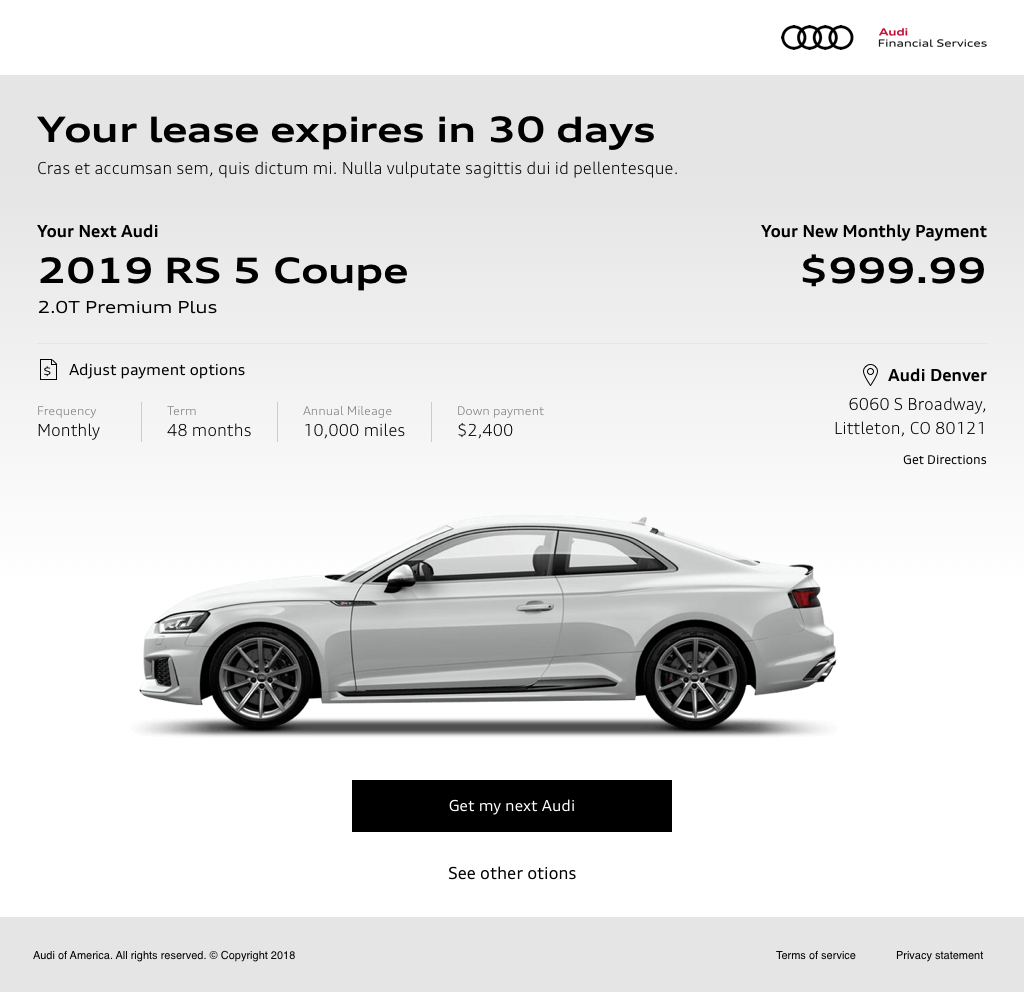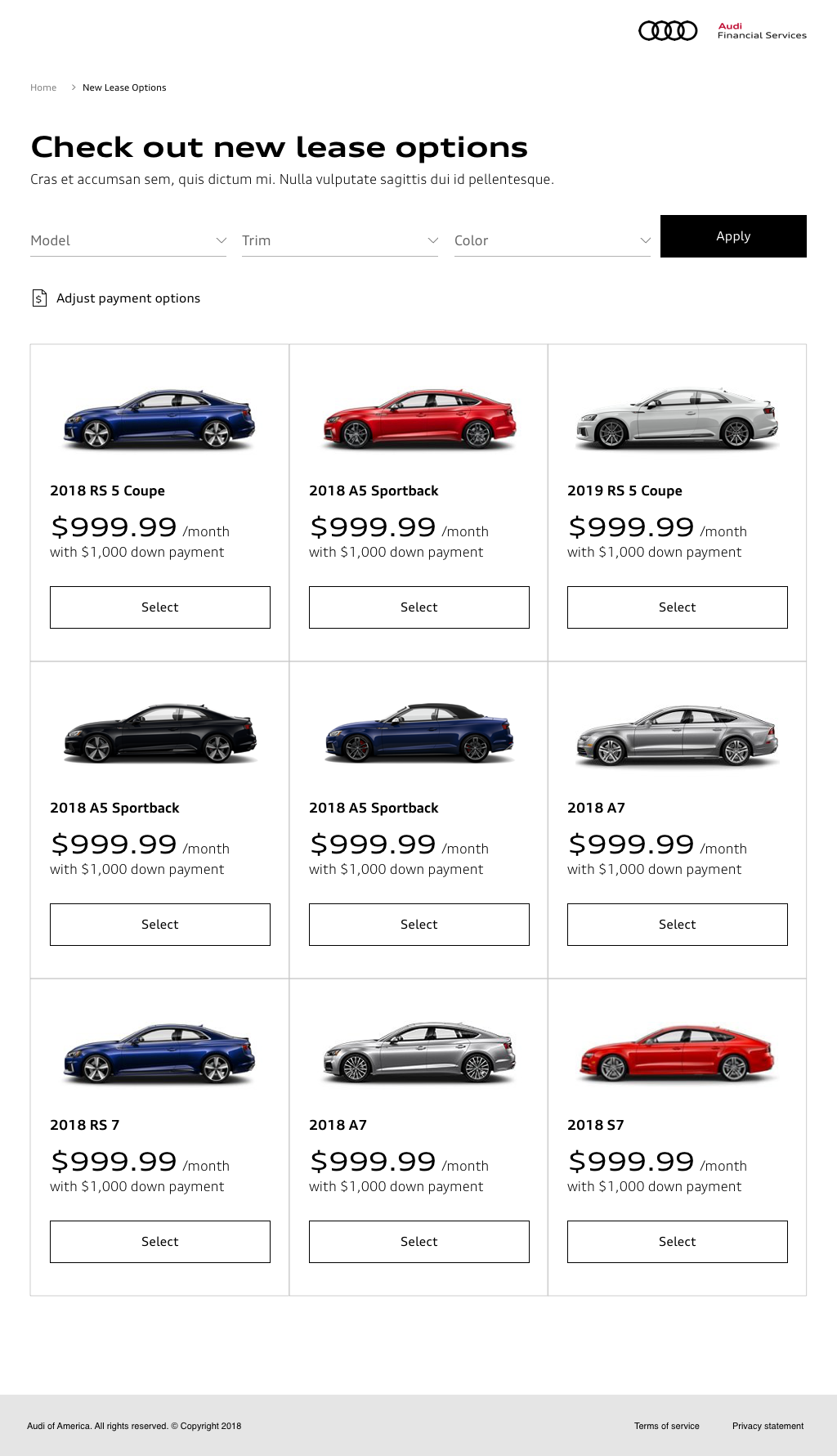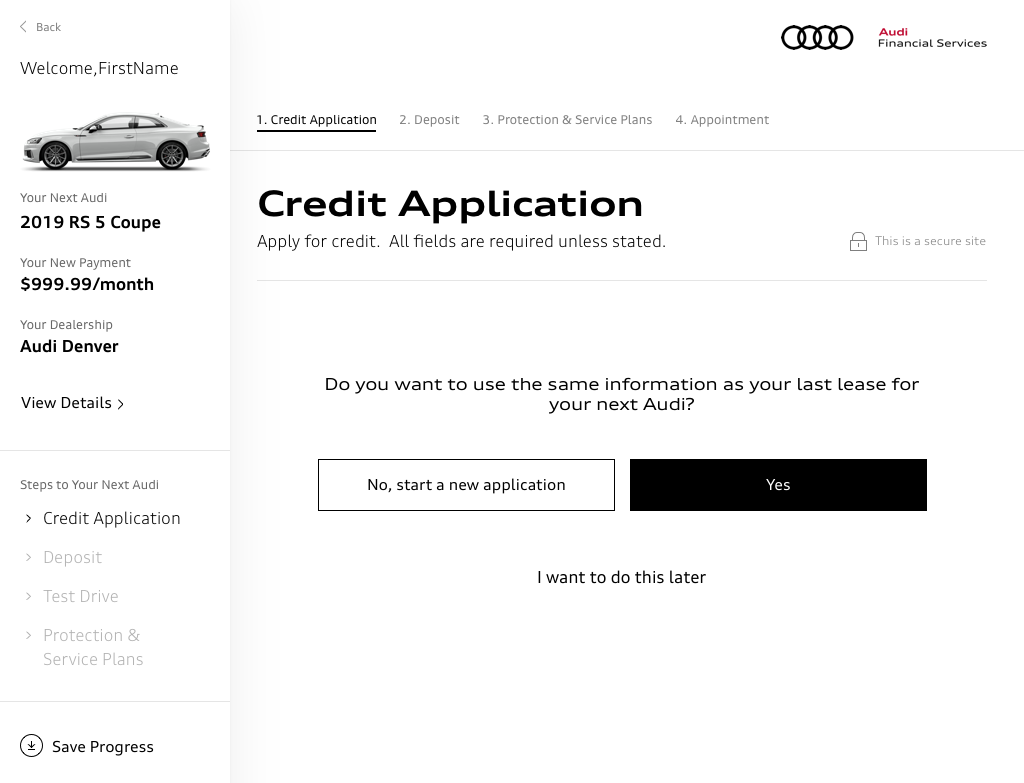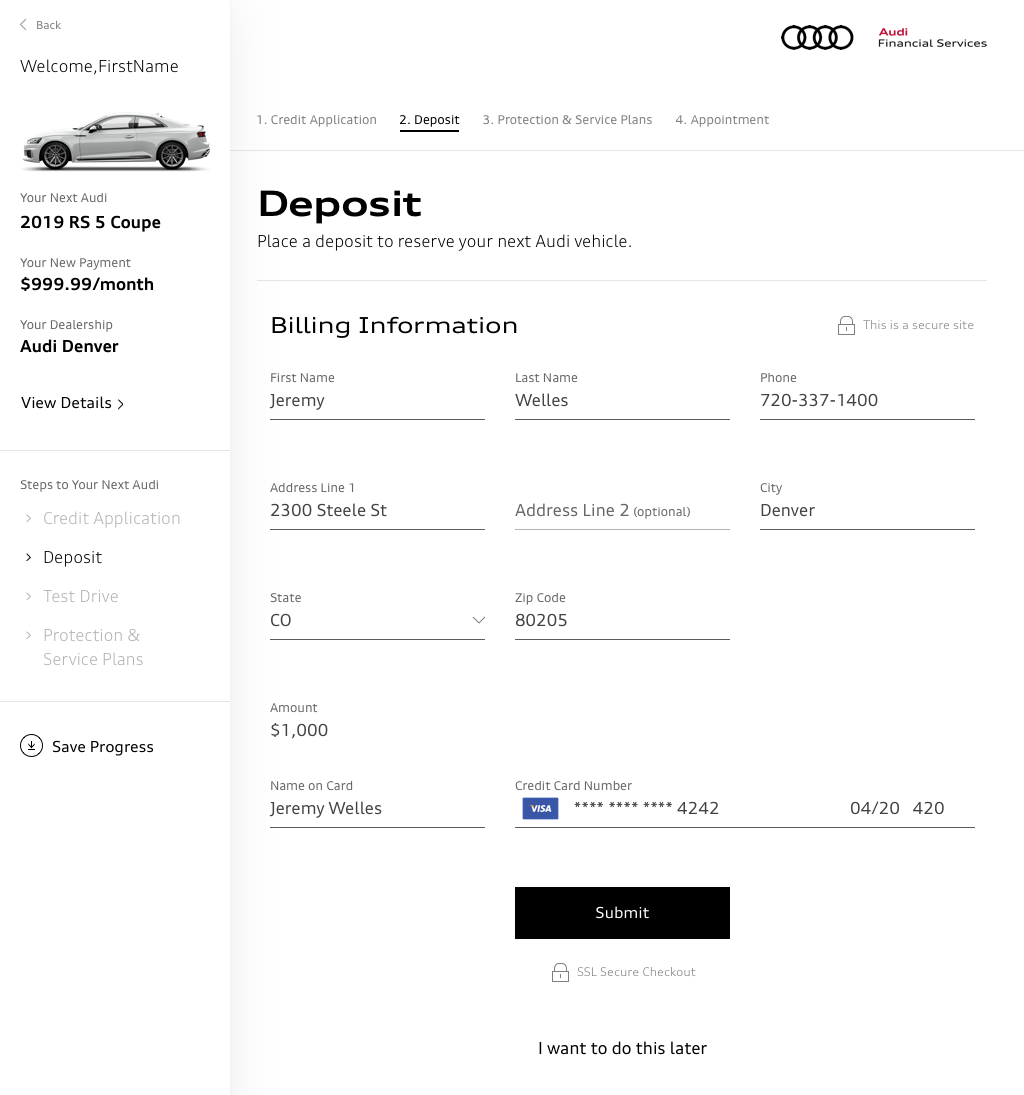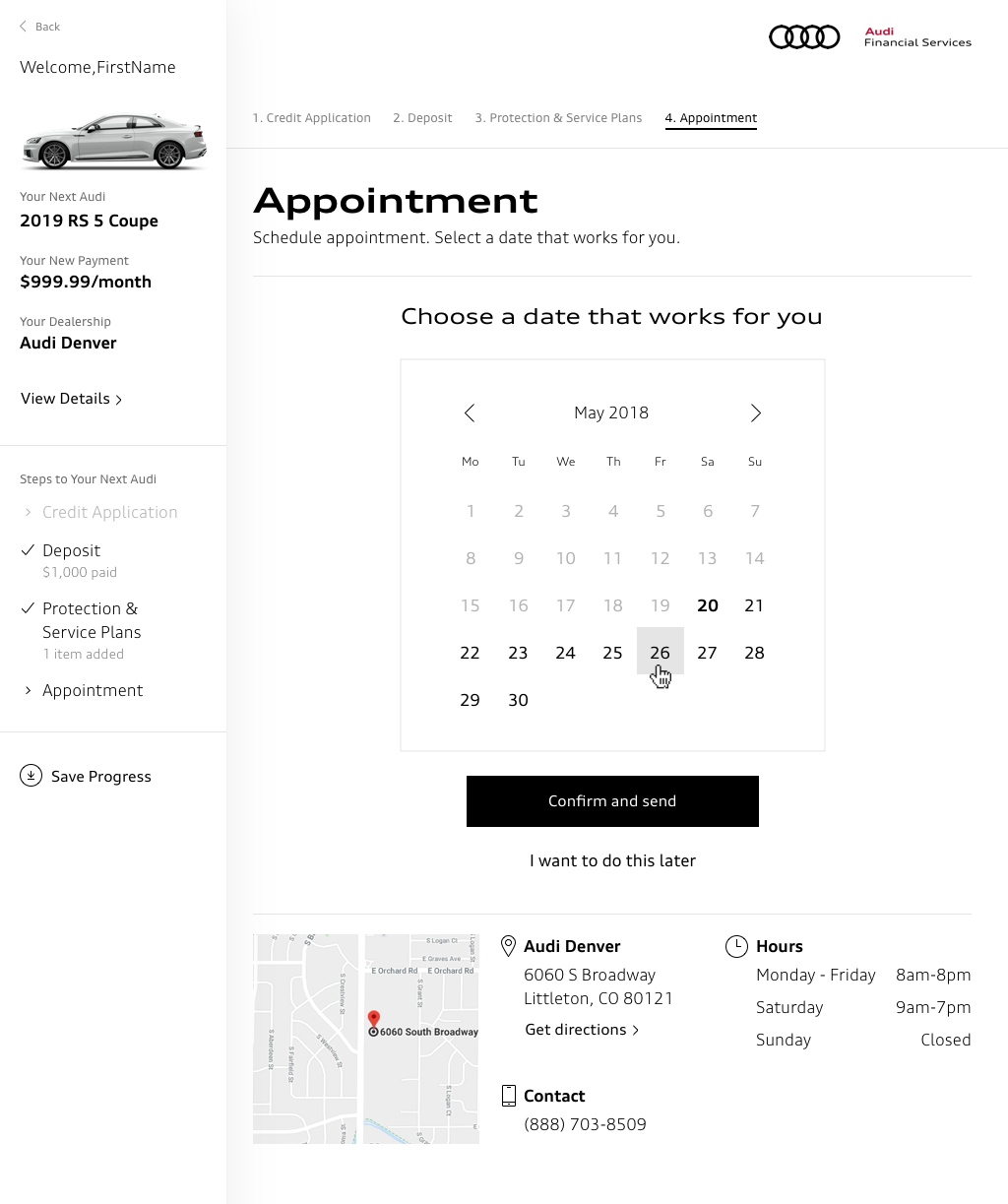 User Testing
Based on the prototype created with the screens above, user testing was conducted to test, 
- If users can understand what action they need to take in order to process or complete their orders 
- If users can determine their order progress
Also to observe how users proceed their lease renewal with this solution.
Some of the feedback I got was:
- Users like the idea of the recommendation but would also like to see more vehicles when they land on this page
- Half of users found the sidebar order progress very useful but the other half found it confusing
- All users wants transparency on their new lease, especially what actions to take in order to secure a lease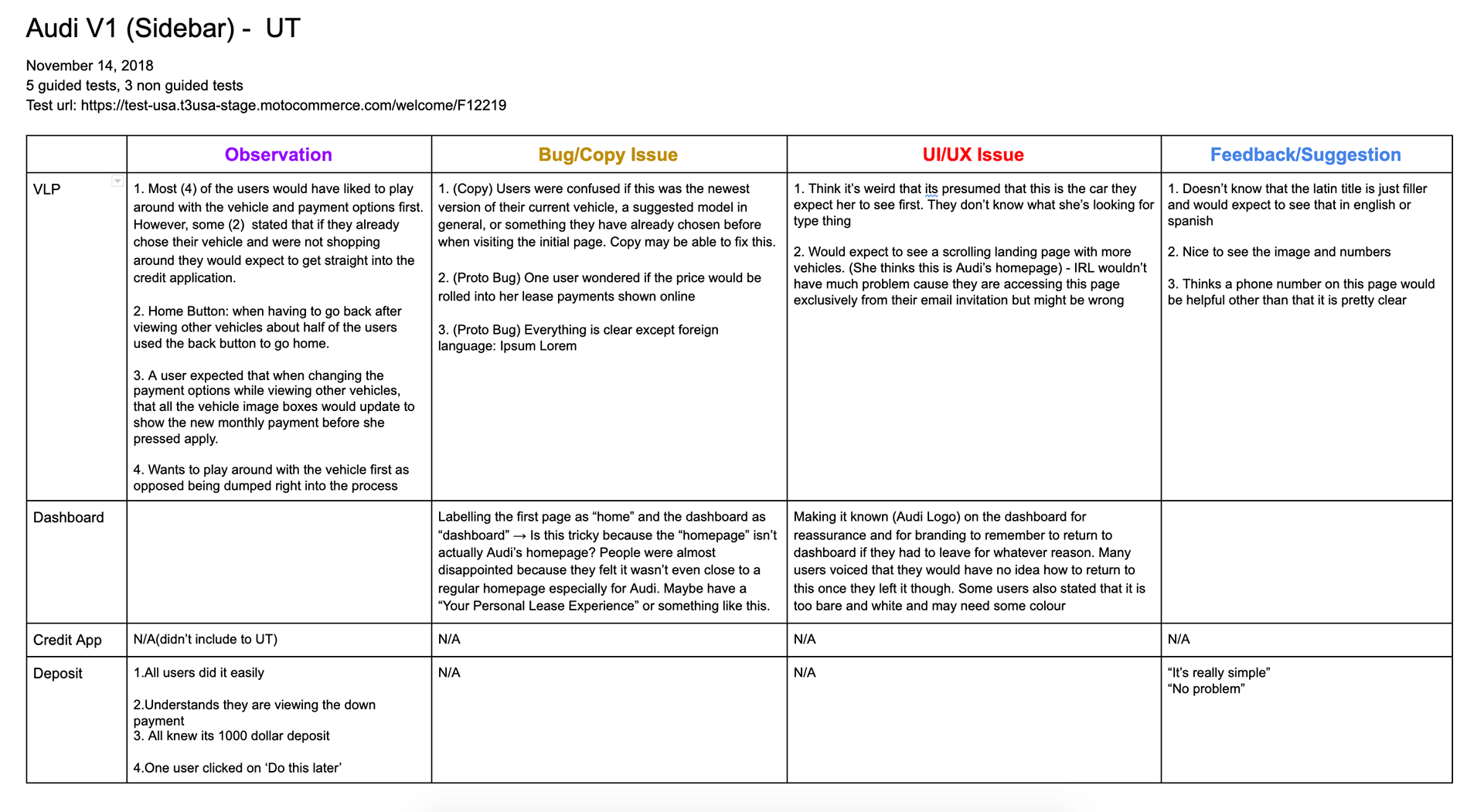 Customer Dashboard
Once user receives an invitation email to My Next Audi program, user can easily access to this order dashboard to renew their Audi release with a new Audi vehicle.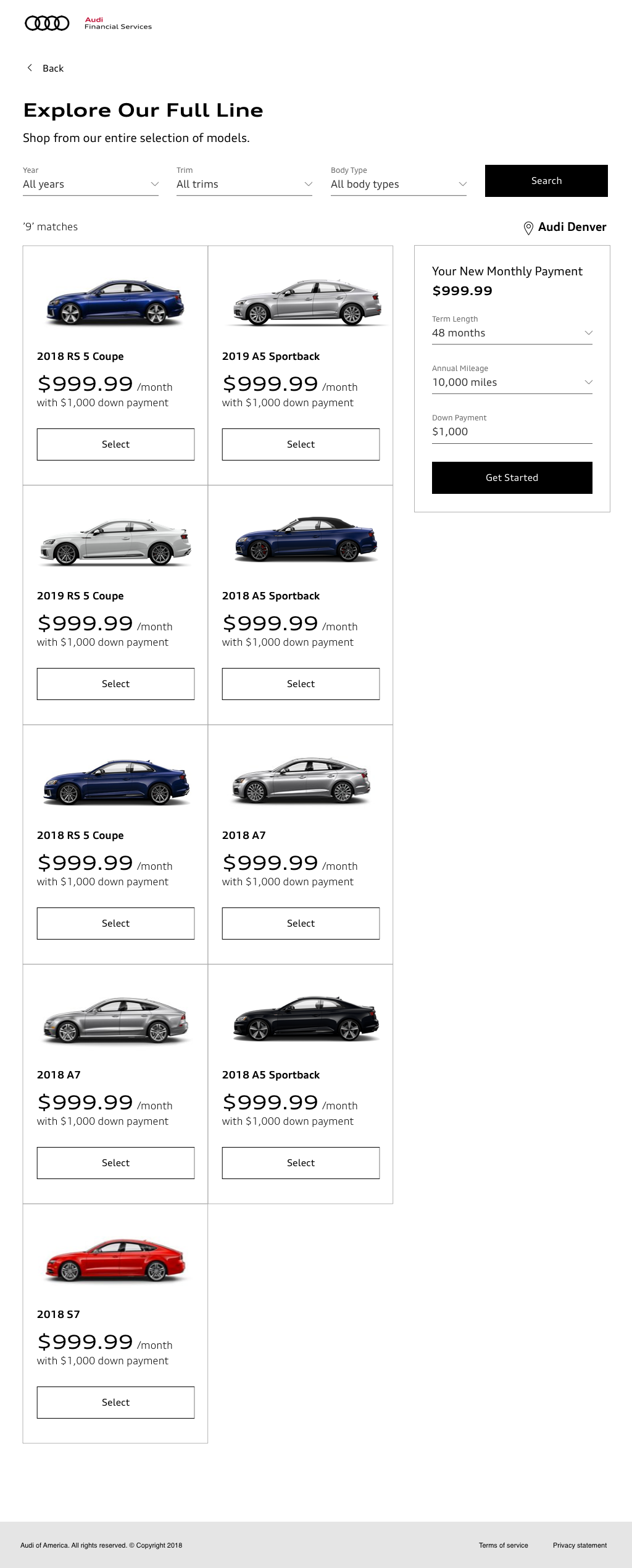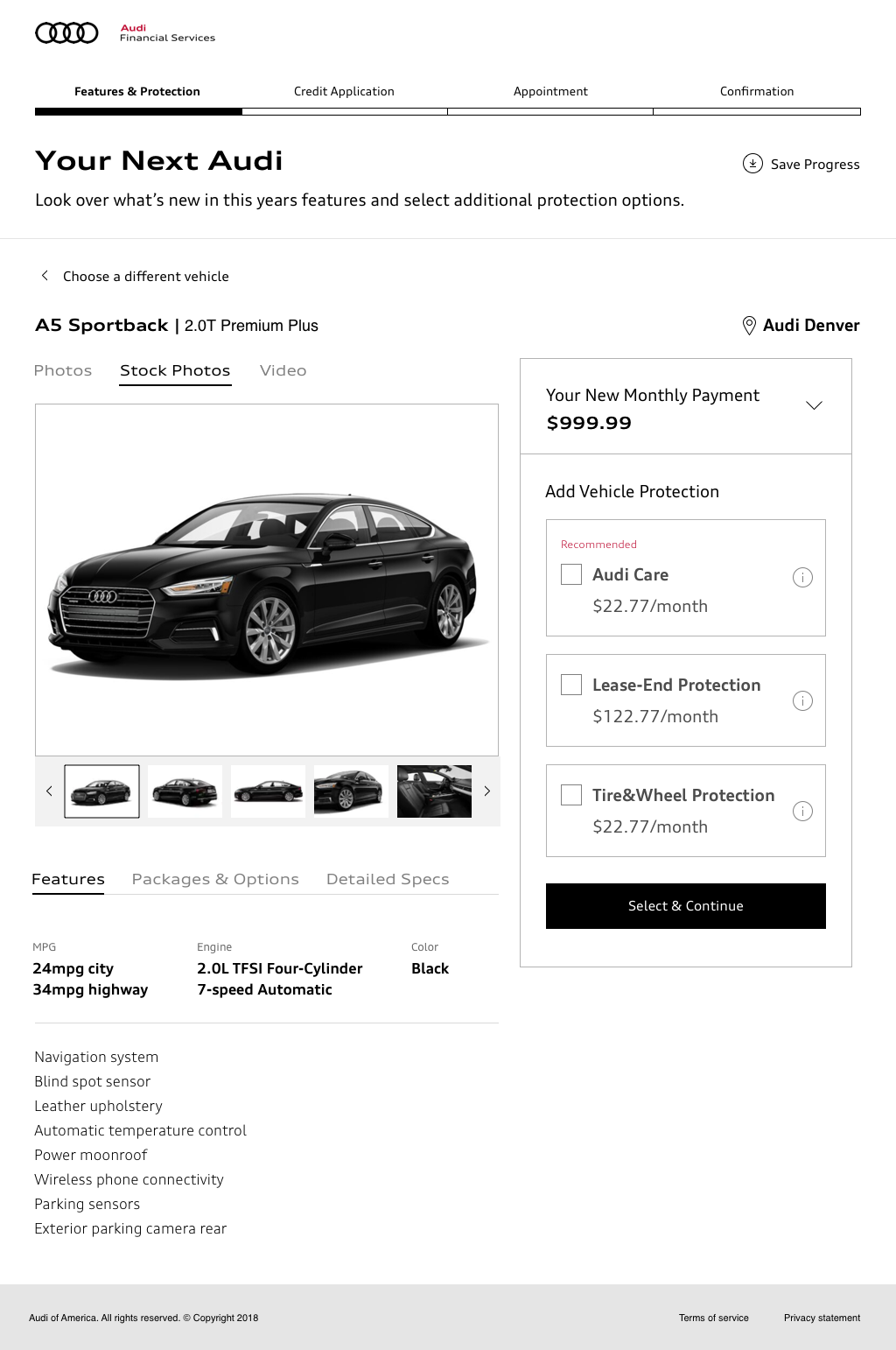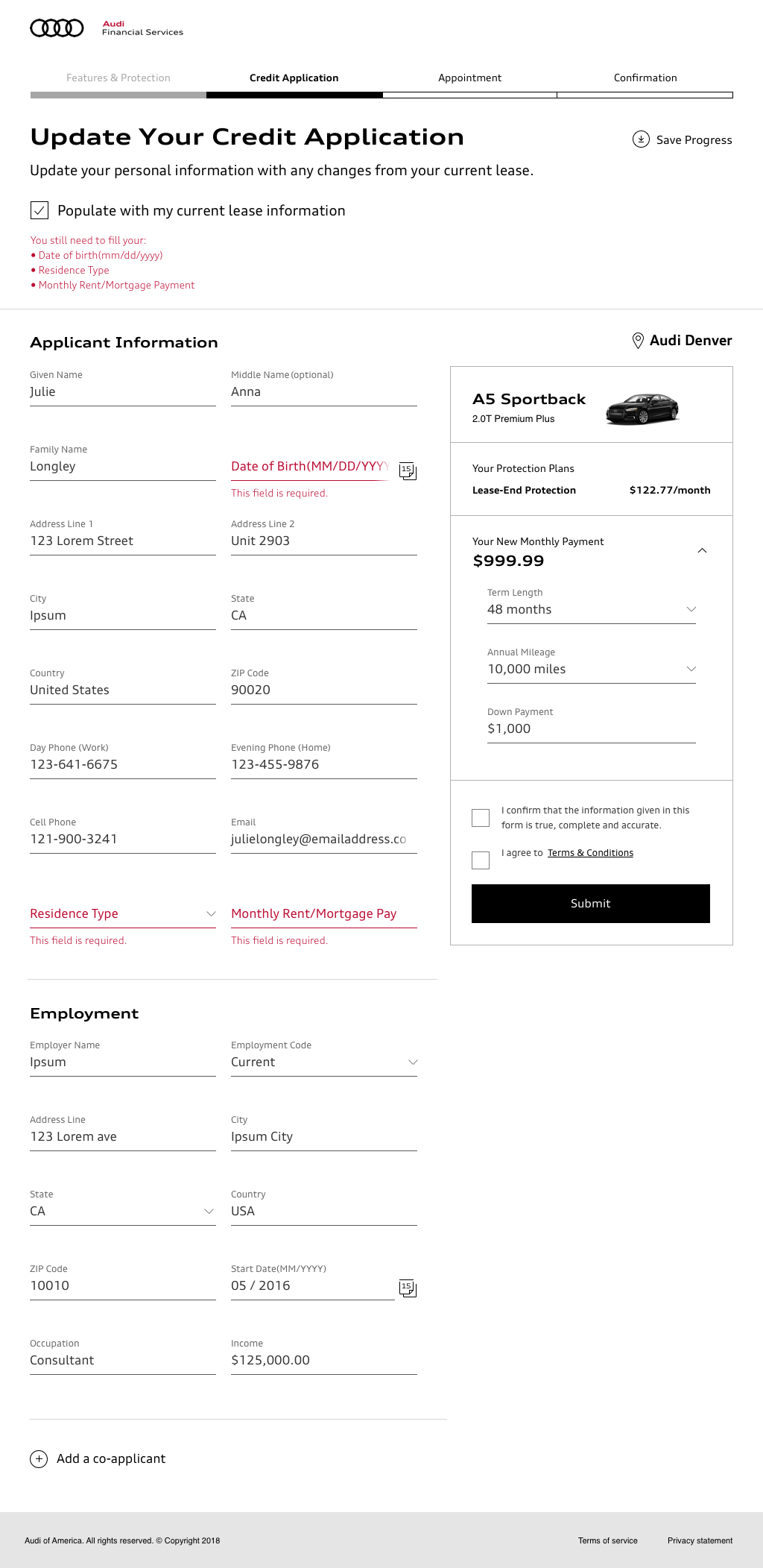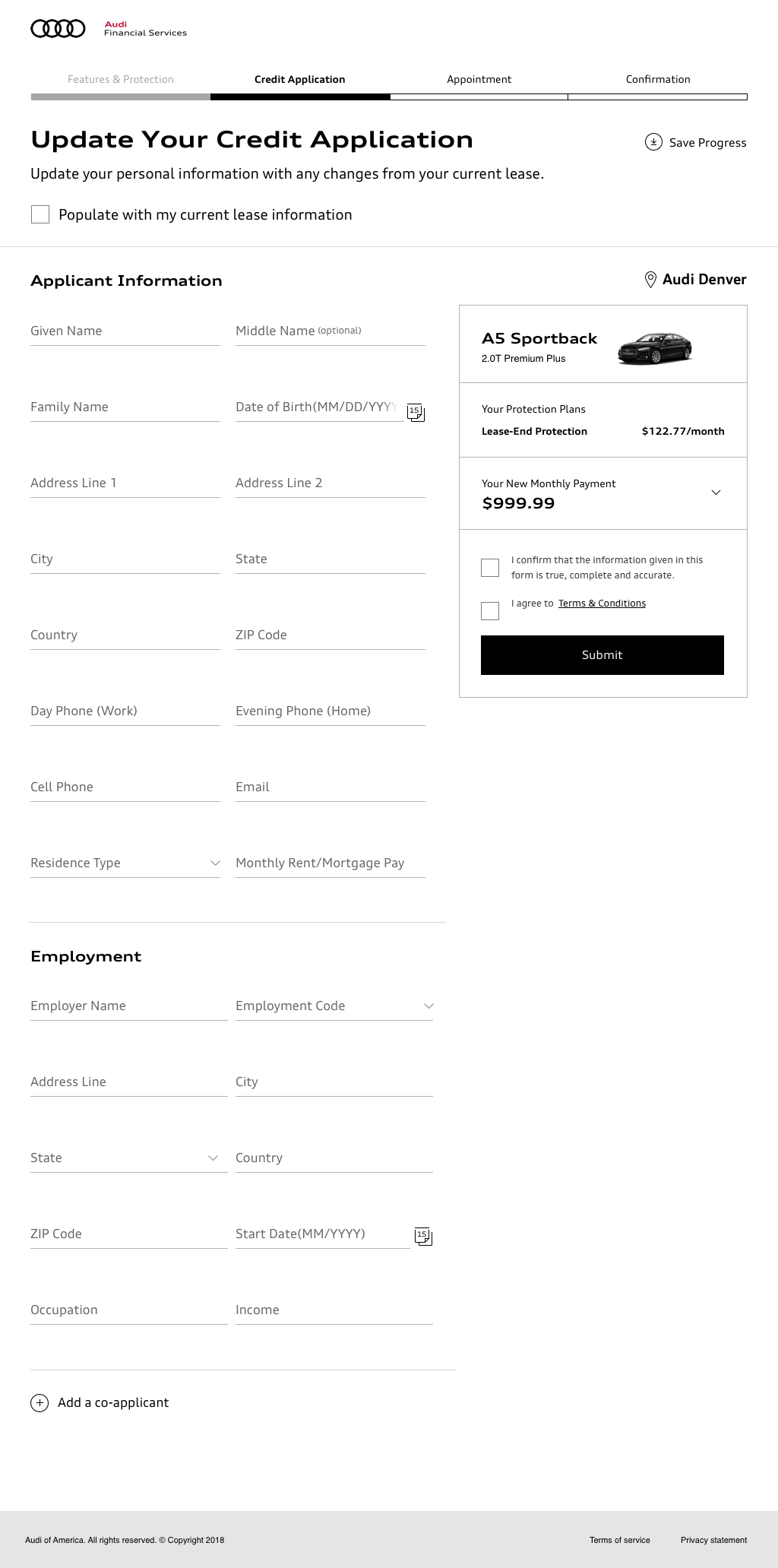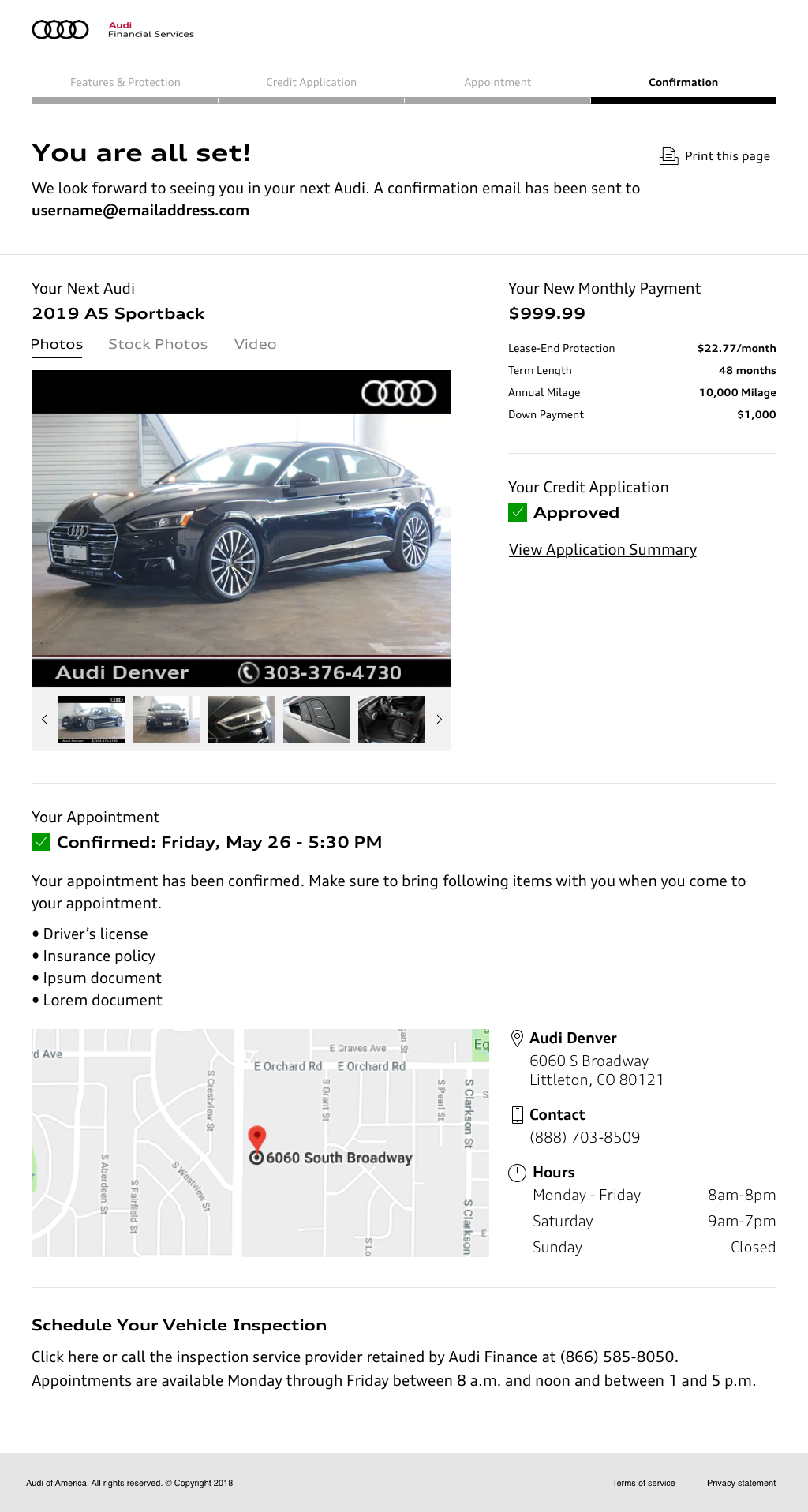 Mobile Design
- Collapsable payment configurator
- Easy to browse new lease options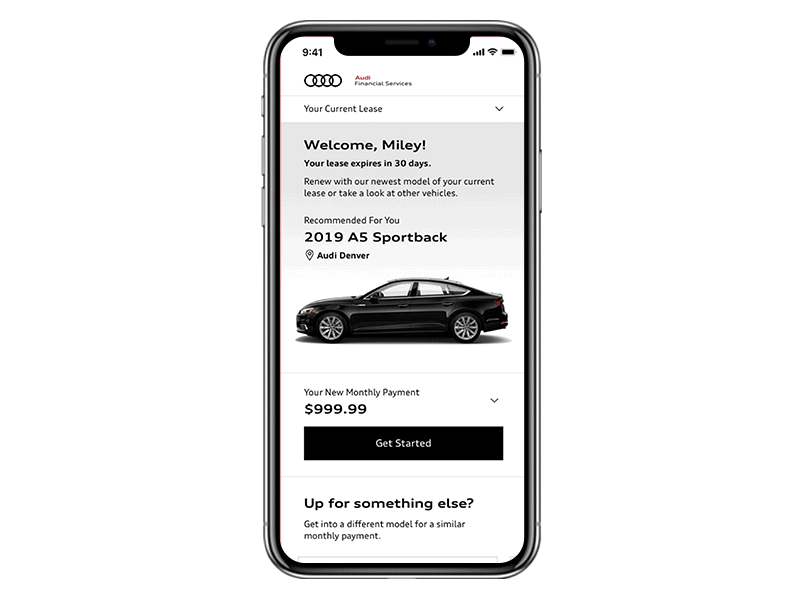 Dealer Portal
This project also includes a dealer portal where Audi dealers can manage orders that come from My Next Audi program. Dealer users can easily see the status of each order, schedule an appointment with their customers, and modify order details on this portal.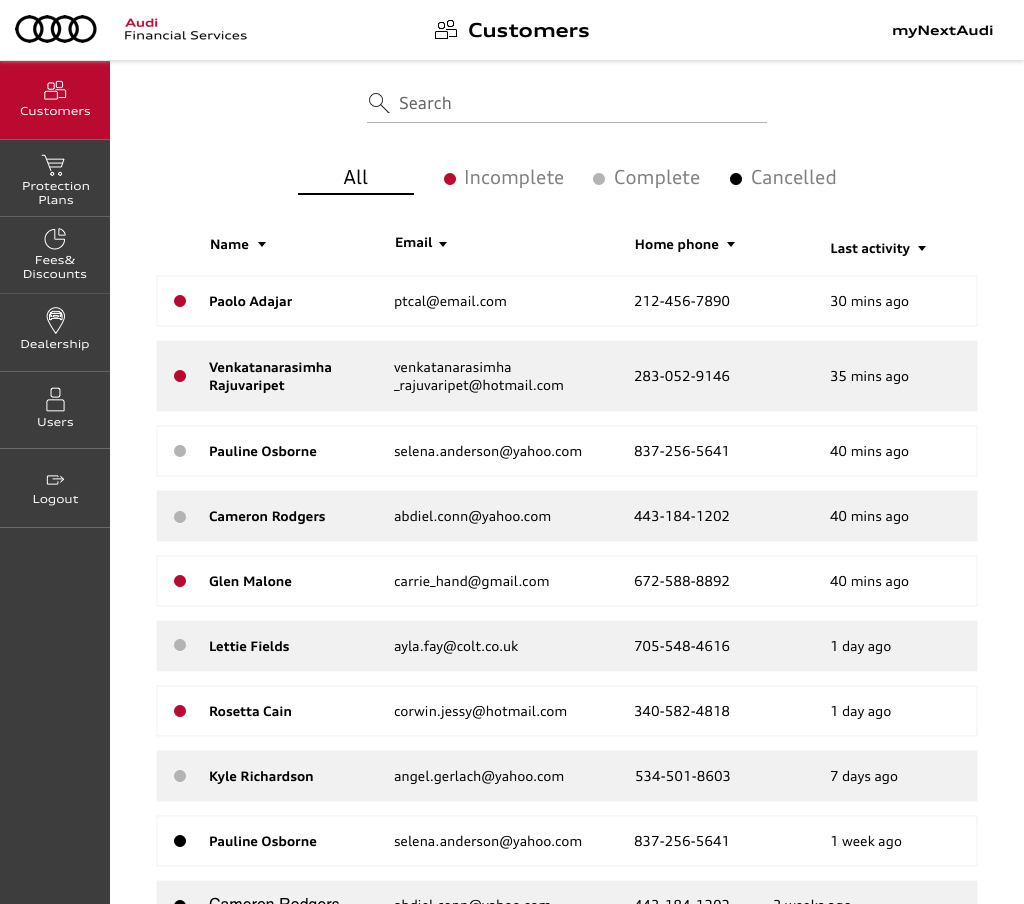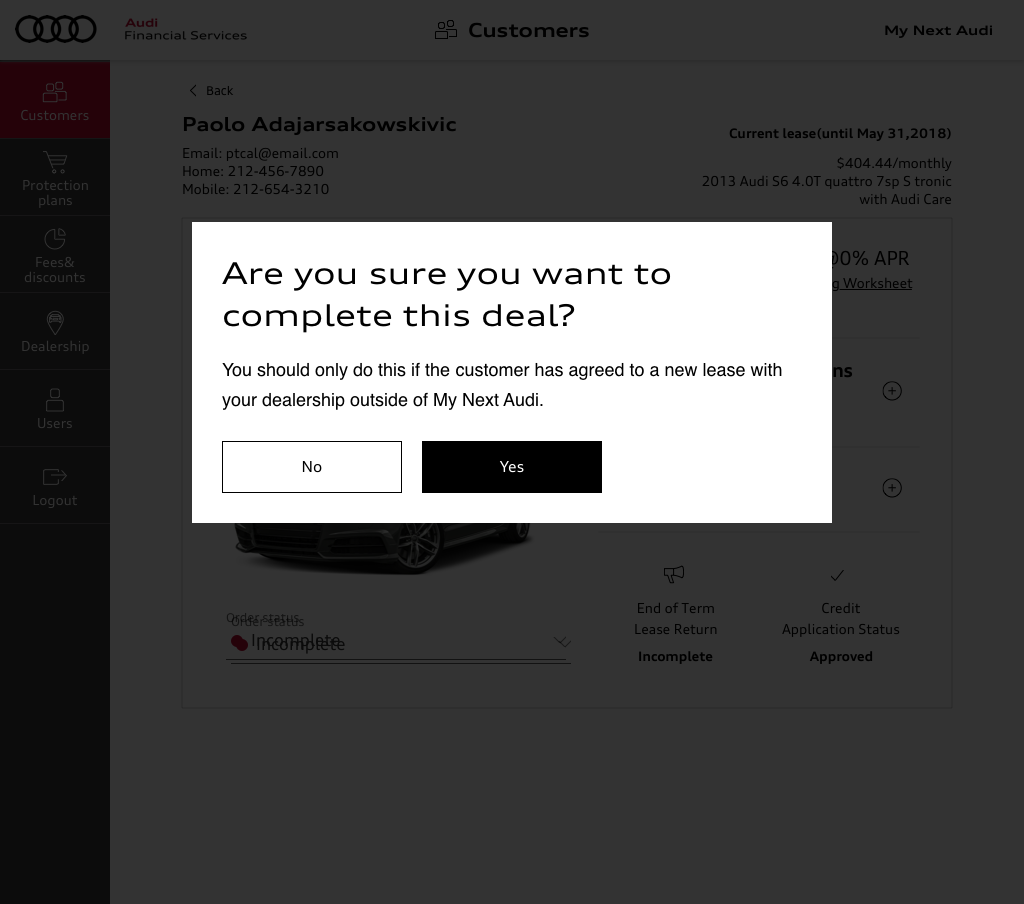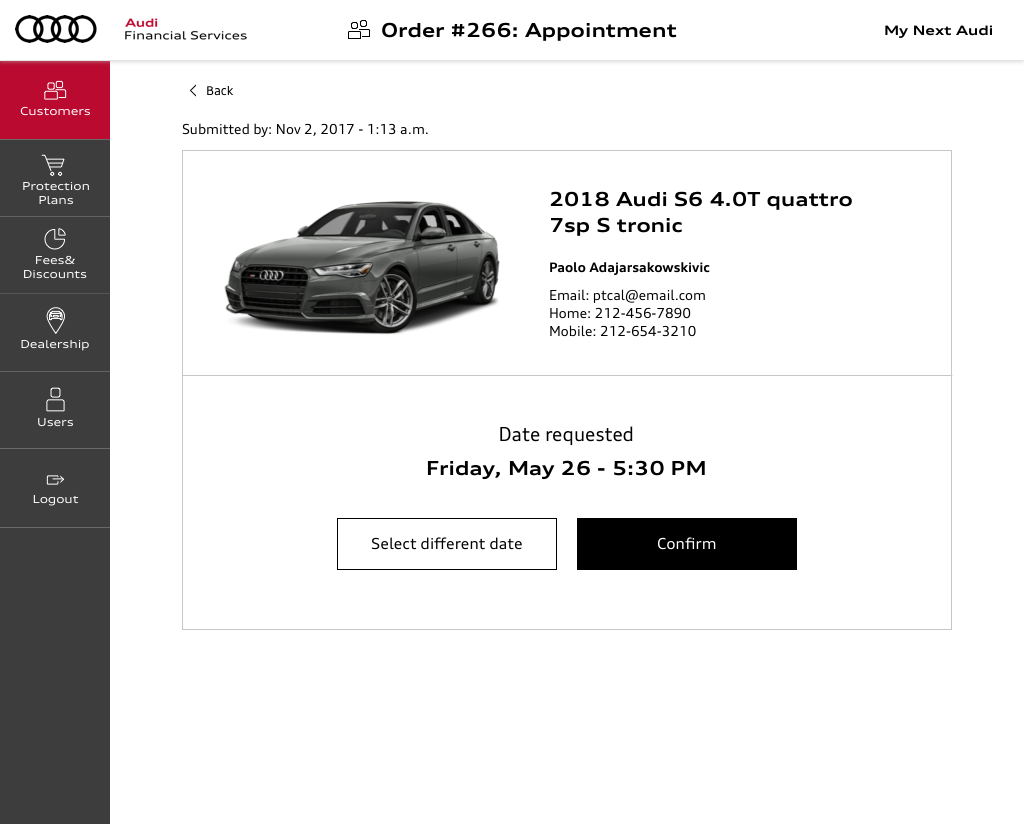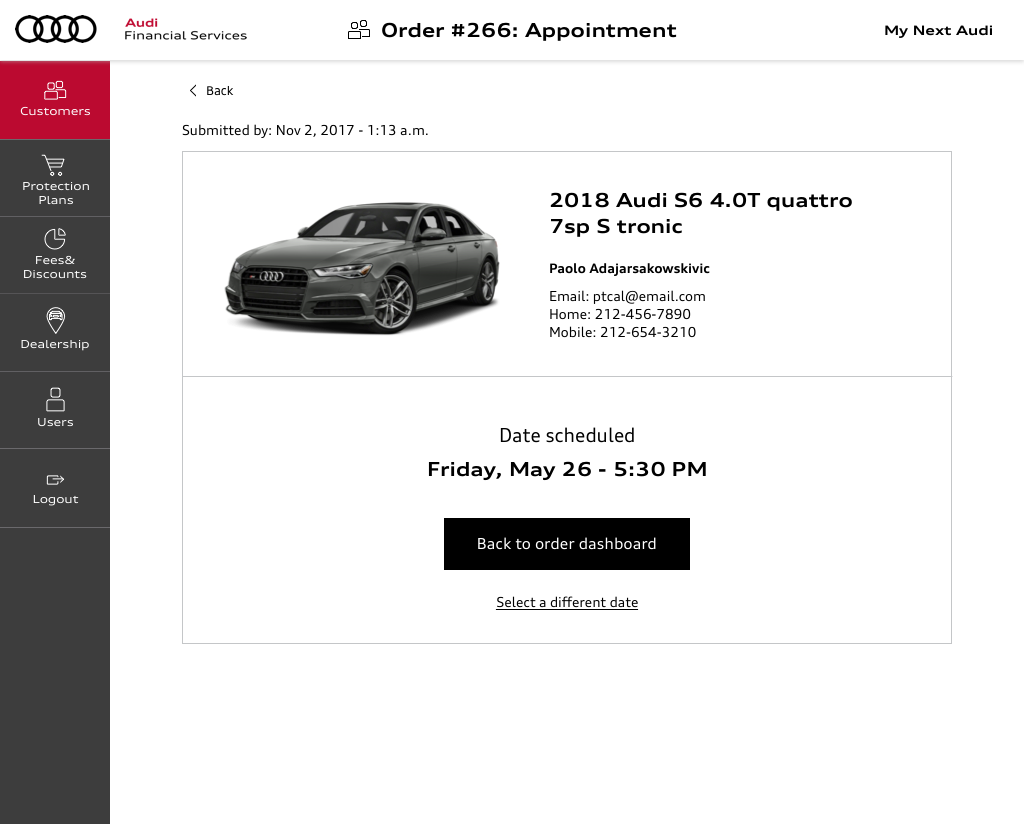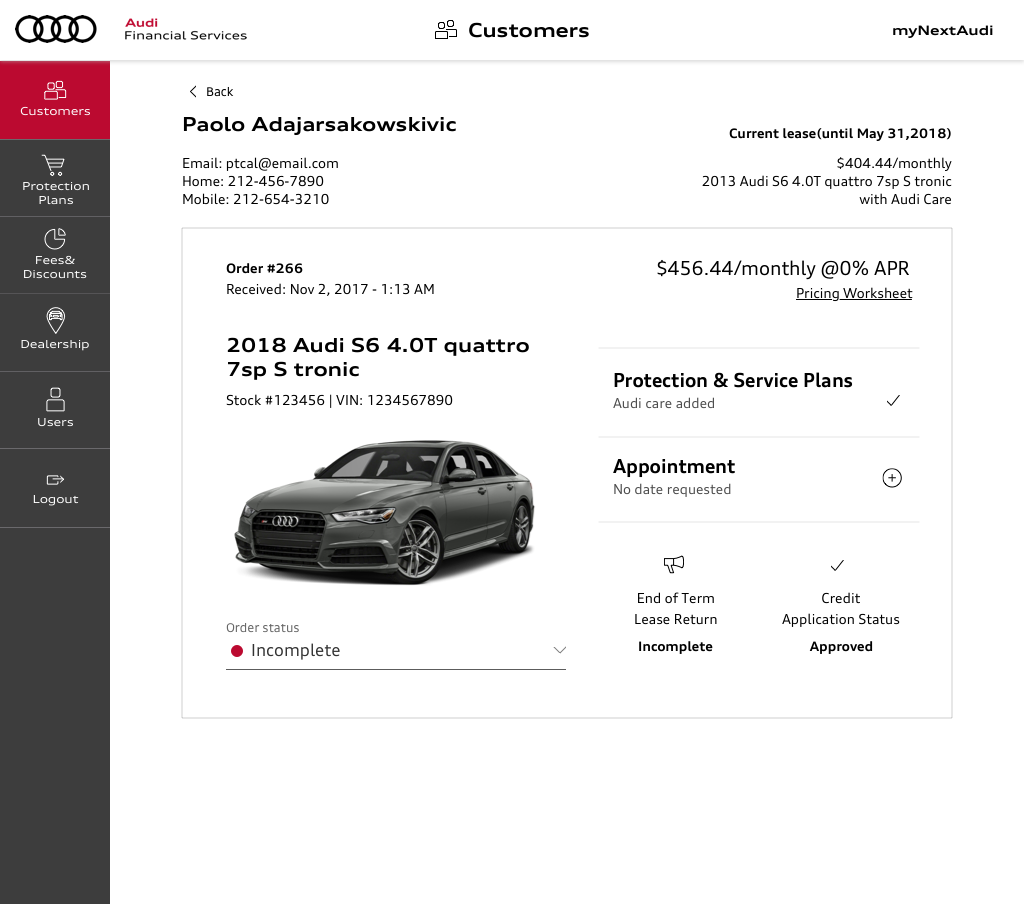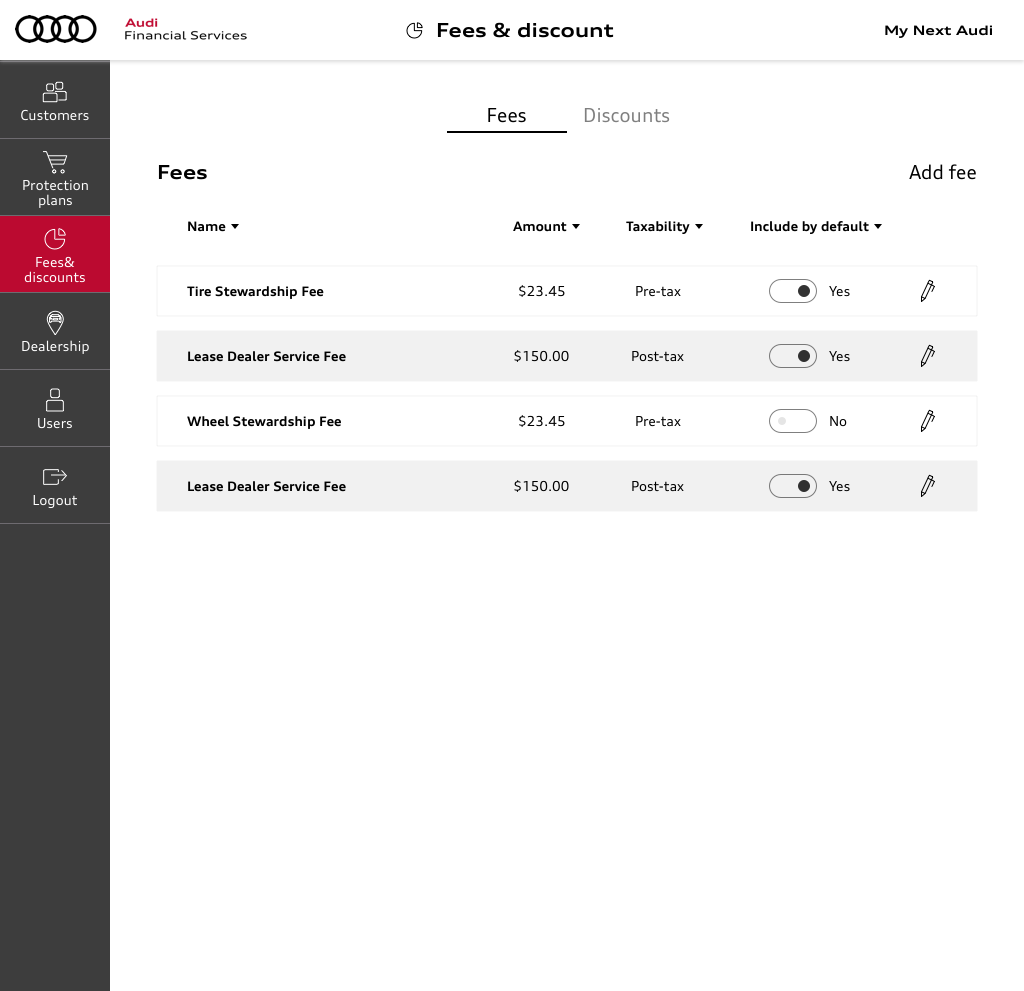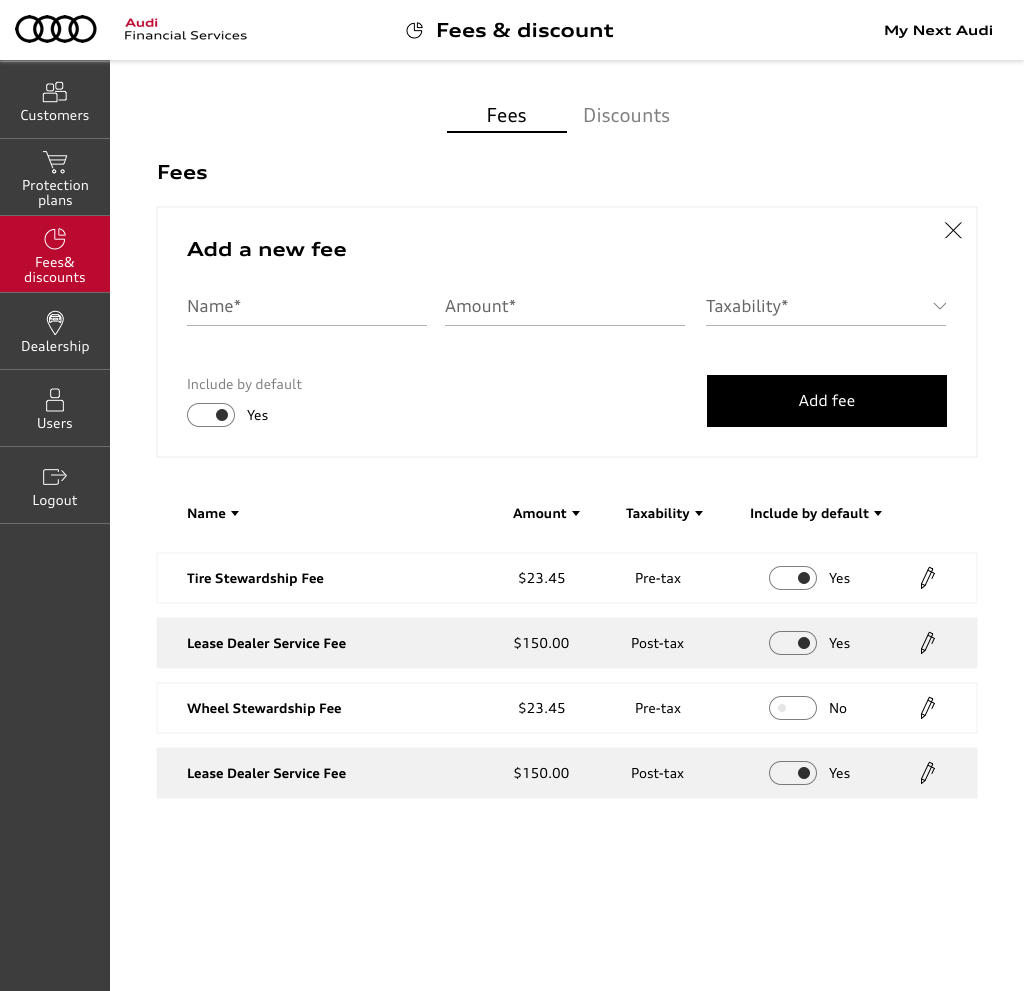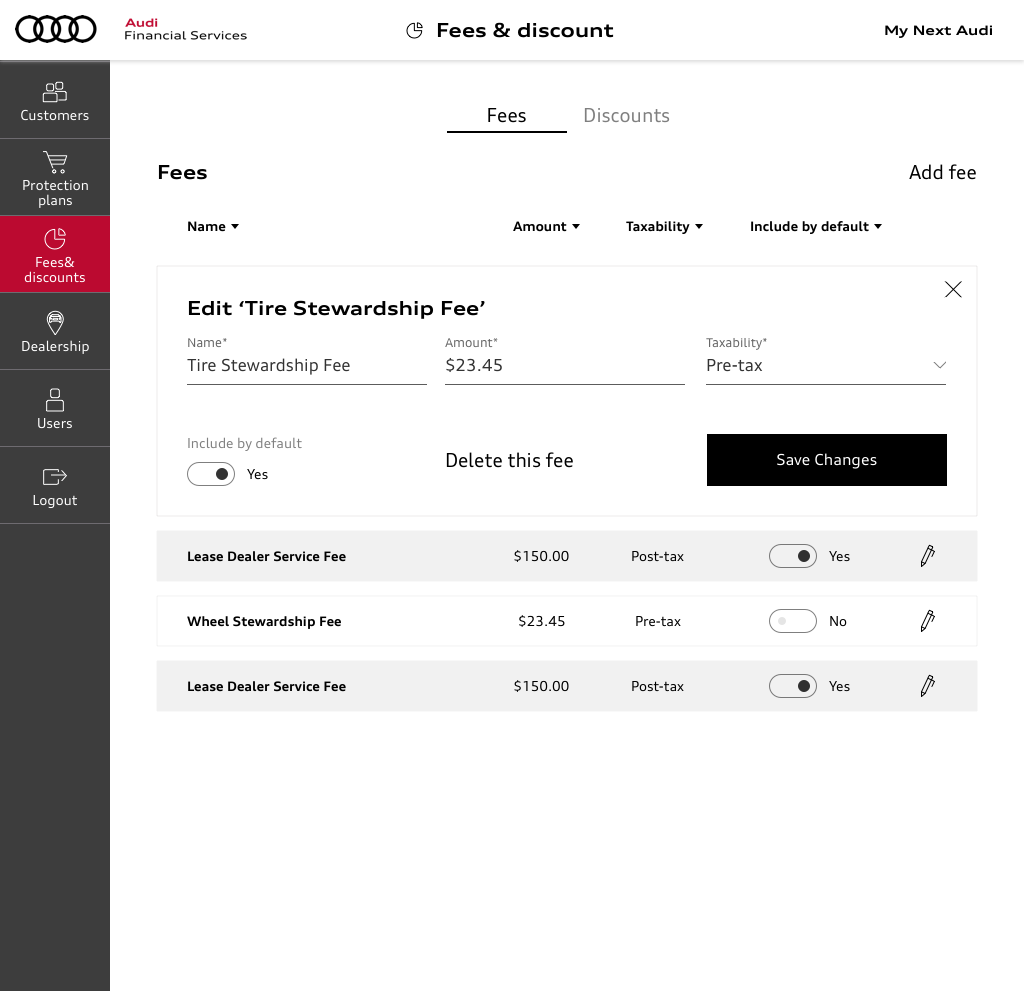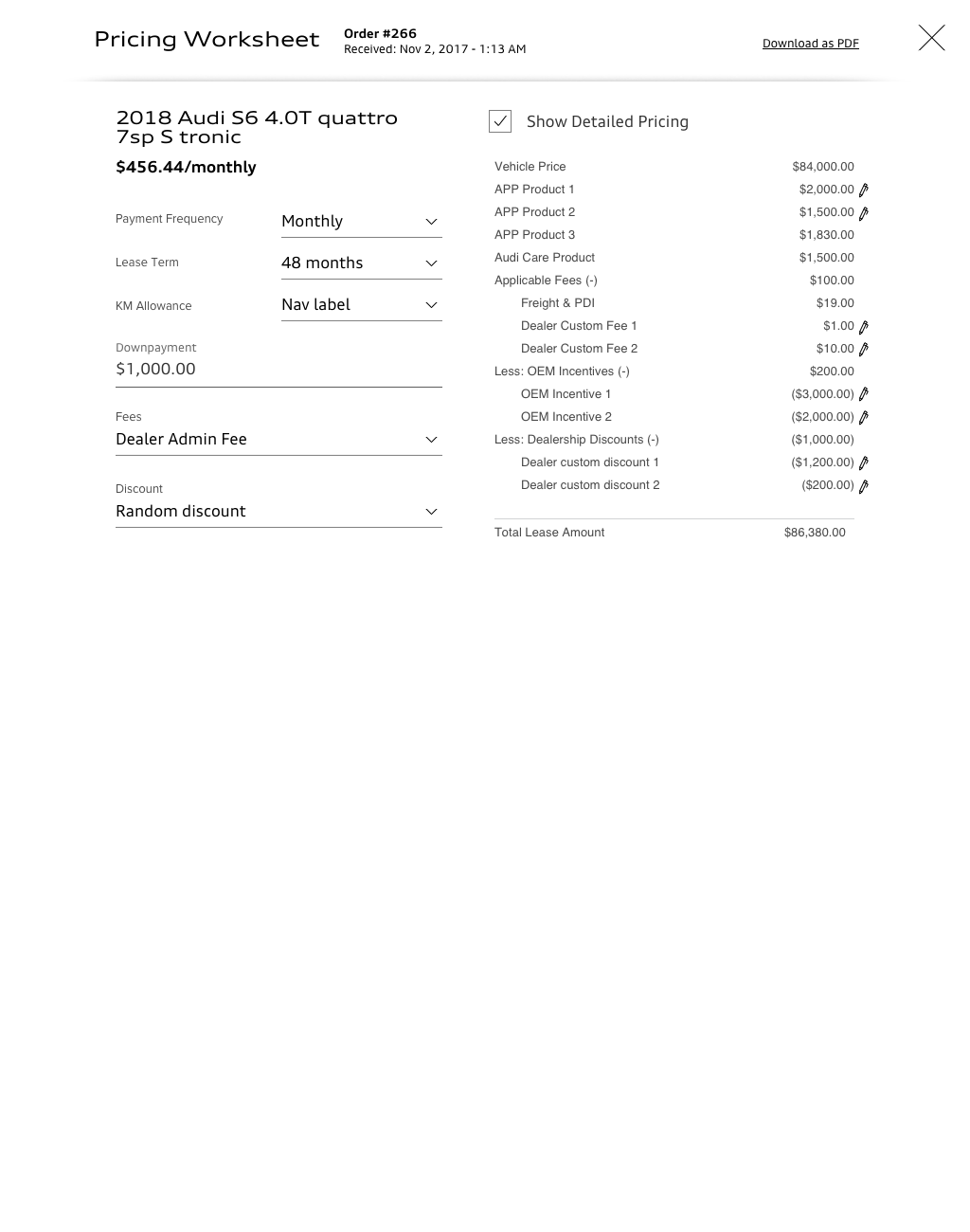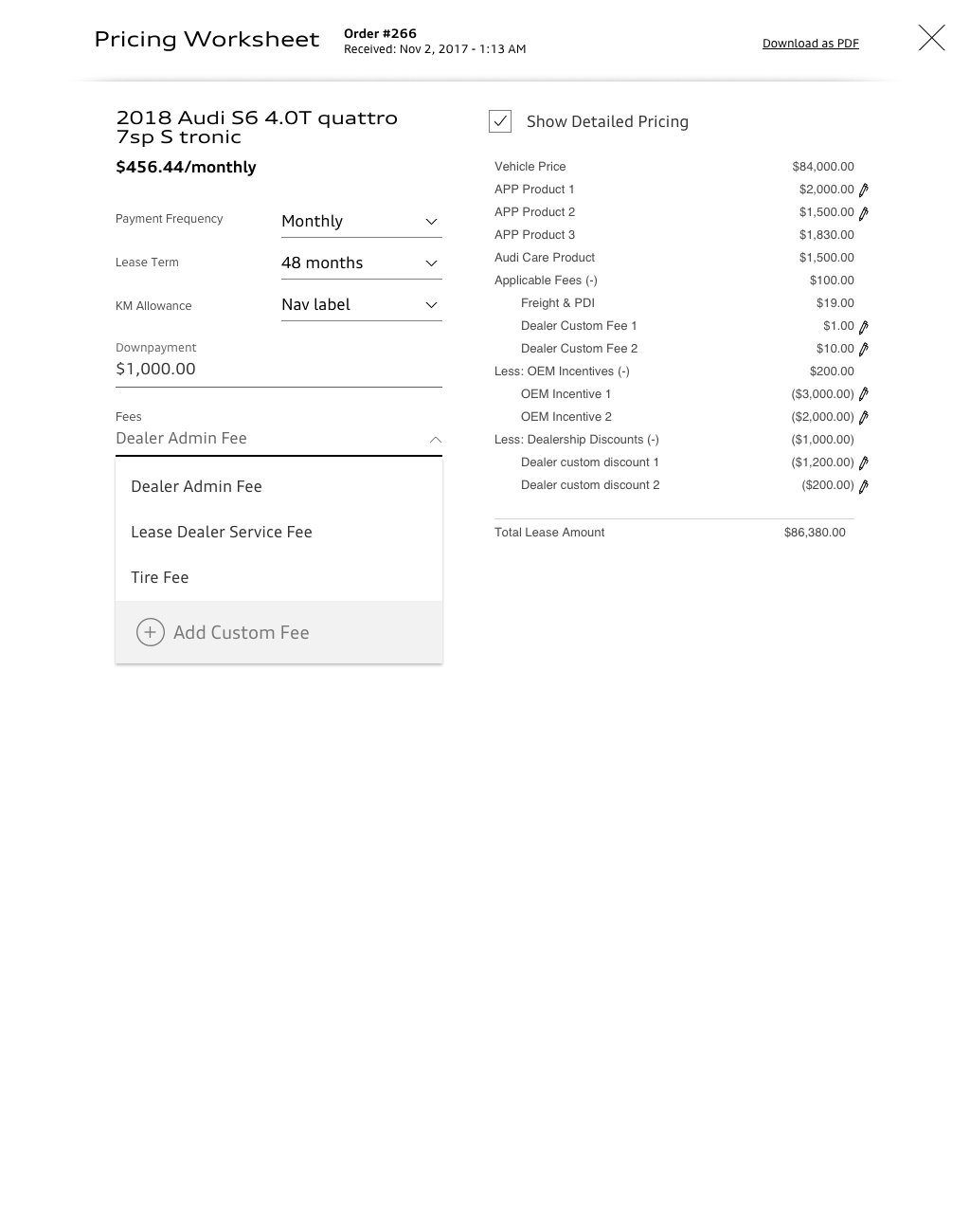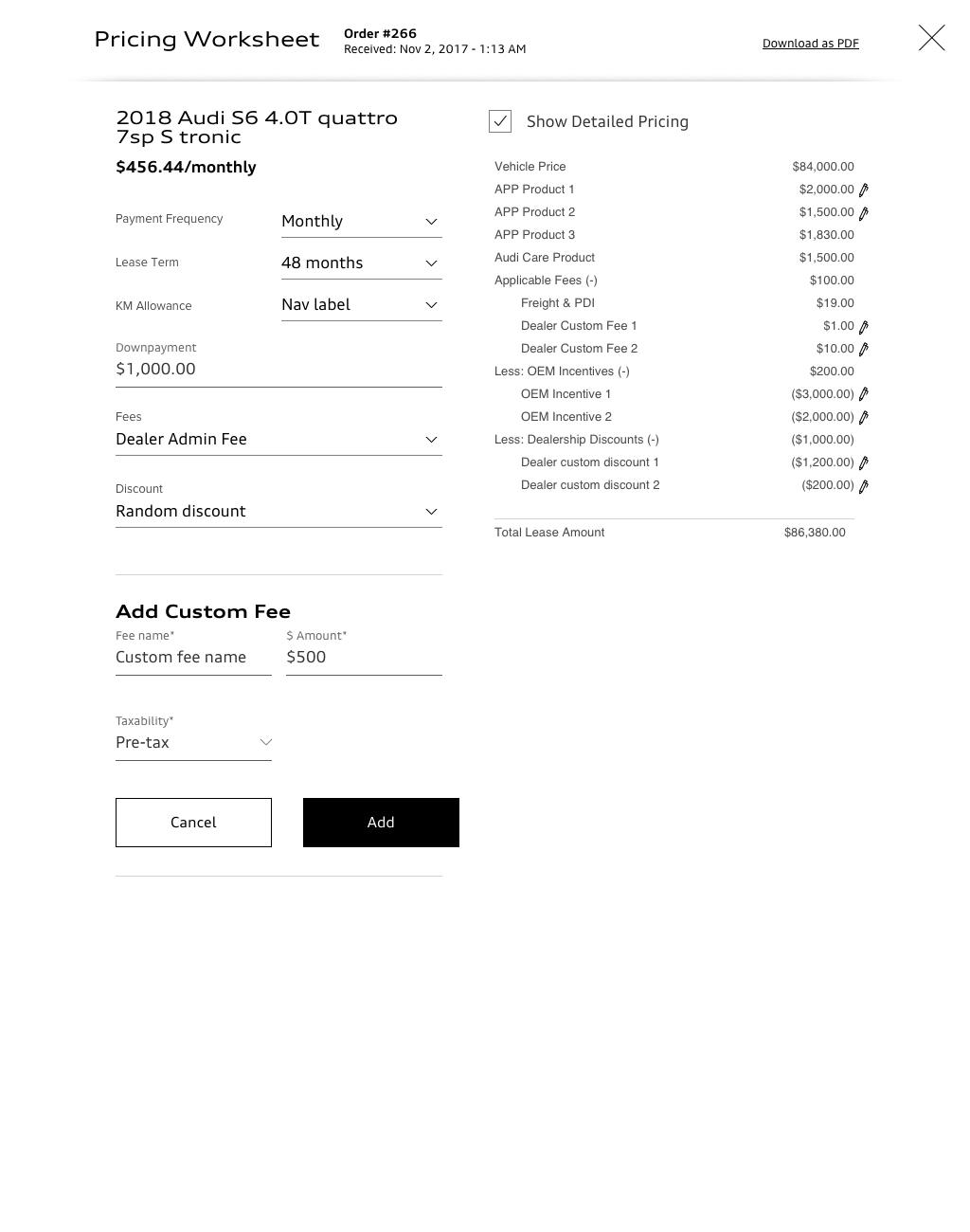 My contributions
I was the only product designer for this project and I led:
- User Research
- UI/UX Design
- Prototyping
- User Testing
- Design QA